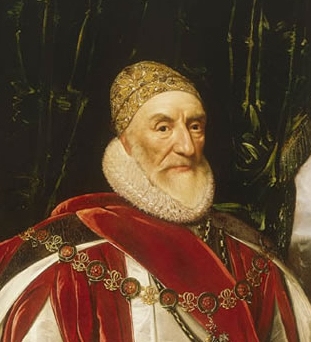 Henry Car(e)y, first Baron Hunsdon (1526-1596) was an English nobleman and the son of Sir William Carey, Gentleman of the Privy Chamber and Esquire of the Body to King Henry VIII, and Mary Boleyn.
Lady Mary Carey was mistress to Henry from around 1520. Popular legend states that Henry was an illegitimate child of the king. Some 10 years after the child was born, John Hales, vicar of Isleworth, remarked that he had met a 'young Master Carey,' whom some monks believed to be the king's bastard. The idea that Carey was Henry's secret son has spawned several Tudor legends, even becoming a central part of modern fiction. However, there is firm contemporary evidence that Henry Carey was not born until 1526 - by which time the affair is believed to have ended.
Carey's father died suddenly in 1528, when Henry was only two. Some say his mother was deemed unable to raise him due to her impulsive nature and financial troubles. Consequently, he came under the guardianship of his maternal aunt Anne Boleyn, engaged to Henry at the time. The child still had active contact with his mother, who remained on good terms with her sister, until her secret elopement with a soldier, William Stafford (later Lord of Chebsey) in 1535.
Anne acted as her nephew's patron and provided him with a top-quality education in a prestigious Cistercian Monastery. He was also known to be tutored at some point by French poet Nicholas Bourbon, whose life had been saved from the French Inquisition after Anne's intervention. Many historians speculate that Henry's mother, Mary, wasn't financially unstable or a bad mother, but that her sister Anne adopted Henry in order to make herself more appealing to the king. Henry's royal aunt was beheaded in 1536 on charges of treason, incest, adultery and witchcraft. His mother died 1543 on her estate in Essex. In 1545 Henry himself married Ann Morgan (d 1607), daughter of Sir Thomas Morgan, of Arkestone, Herefordshire, and Anne Whitney. They had nine sons.
He served twice as an MP, representing Buckingham 1547-1552, 1554/55. He was knighted 1558 and made Baron by his first cousin Elizabeth I 1559. His sister, Catherine, was one of Elizabeth's favourite ladies-in-waiting and the Queen was very generous to her Boleyn relatives.
His Baronial estate consisted of the manors of Hunsdon and Eastwick, Hertfordshire and possessions in Kent. He was also granted an annual pension of £400. In 1560 he was appointed Master of the Queen's Hawks. In 1561 he also became a Knight of the Garter.
He seems to have gained some favour with his cousin as she appointed him Captain of the Gentleman Pensioners 1564; a position making him effectively her personal bodyguard. He seems to have served four years. In 1568 he was appointed Governor of Berwick-on-Tweed and Lord Warden of the Eastern March.
The year 1569 was the beginning of the Northern Rebellion, a major uprising was instigated by Thomas Howard (Duke of Norfolk), Charles Neville (Earl of Westmorland) and Thomas Percy (Earl of Northumberland). The rebellion was expecting the support of Pope Pius V. Henry was appointed Lieutenant General of forces loyal to the Queen. His February victory over Sir Leonard Dacre was instrumental in crushing the rebellion. A number of the rebels crossed the borders to Scotland but were there targeted by the forces of the Scottish Regent. The victorious Henry was appointed Warden of the East Marches and represented the Queen in signing a treaty with the Regent 1571. In 1574 he became Keeper of Somerset House, the property of the Queen before ascending the throne. He was then named privy Counsellor 1577.
During the 1580s Hunsdon's role at court grew steadily. In 1581 he was made Captain General of the forces responsible for the safety of English borders. He was appointed Lord Chamberlain of the household, 1585, a position he held until his death. This did not prevent Elizabeth from appointing him Lord Chamberlain Lieutenant, Principal Captain and Governor of the army for the defence and surety of our own Royal Person in 1588 at Tilbury.
Henry was a blunt, plain-spoken man with little tact, which often worked to his disadvantage at Court. However, his character and reputation as a successful military leader gained him the respect - and often the affection - of the soldiers who served under him. He also served as Chief Justice in Eyre, south of the Trent from 1589. He was Joint Commissioner of the Office Earl Marshal and High Steward of Ipswich and Doncaster. He served as Chief Justice of the Royal Forces between from 1591. In 1592 he was appointed High Steward of Oxford for life.
He died at Somerset house and was buried at Westminster Abbey. On his deathbed his cousin Elizabeth I offered to create him Earl of Wiltshire; however, he refused. Two sons succeeded him,. George and then John.